Designing a Flexible School Theatre
In a modern educational establishment the demands on the theatrical space are ever increasing. No longer can the theatre be the place where there are 4 to 6 performing arts productions a year with the occasional assembly or meeting. Space utilisation is the buzz word and theatres need to not only be used as much as possible, they must also have the ability to be able to quickly change from one type of use to another.
Theatre consultants Drama by Design have been working on theatre design for schools, colleges and universities for many years with an eye not only on flexibility, but also on safety, ease of use and speed of turn around. We recently completed work on a new performing arts centre for ACS School in Cobham which incorporates two drama studios, music teaching and rehearsal rooms and a professionally equipped theatre.
The theatre is designed to be flexible and combines retractable (bleacher) seating with fully upholstered chairs with loose seating on the floor and custom seating for the balcony which can be angled towards different stage layouts or completely removed to provide additional acting areas or space for a band. The stalls seating can be retracted and then a motorised curtain encircles the stalls area to create a self-contained drama studio.
The whole auditorium is covered by a tension wire grid allowing safe, easy access to all the stage lighting equipment that is rigged above it, enabling the students to really get involved with the technical side of productions. Safety in this type of environment is paramount and this solution not only ensures safety for the users, but also for those below as large objects cannot fall through the grid.
Above the stage a motorised flying system allows for lighting equipment, curtains and scenery to be safely raised and lowered as required, without the need to load and unload heavy weights from a counterweight cradle to balance the load on the bar. The flying system is controlled from a computerised touch screen control system which not only allows cues to be programmed as part of the show, but also features overload and slack load detection, so if a bar should snag, it will automatically stop. This can be connected either side of the stage to maintain the flexibility to position the control system where the operator can clearly see what is going on.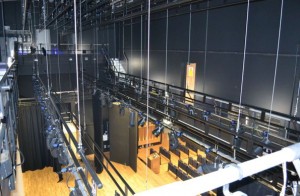 The theatre features a comprehensive audio visual (AV) system with two high power projectors, two large screens and a full conference system. The entire audio visual system is controlled from touch panels that enable the system to be instantly re-configured without the need for complicated re-patching or re-configuration. Even if the drama department has set-up the system for a theatrical production in the evening, the principal can hit one button and the system will automatically be re-configured for a PowerPoint presentation.
As the space is likely to be utilised for long periods of time LED stage lighting was selected. This uses less electricity, generates less heat, doesn't need expensive lamp replacement and doesn't require colour filter to be inserted to project a different coloured light, colour is selected from the lighting console.